Zip Top-Pull Tab Beer Cans
Every beer can collection needs at least a few zip top or pull tab cans to show off in the display. Not long ago, these cans were passed up for the older and more sought after cone tops and flat tops.
Iron City Beer was first to use the new opening and advertised the new easy open snap top on their cans
However, with each passing year, some of these early zip top or snap top cans are becoming quite desirable and highly collectible! In fact, some early brands using the new opening device such as Old Milwaukee and Shaefer, in good shape, can be more valuable than an average flat top in average condition!
Big Cat & Golden Crown. Two different zip top openings.
"Find the Zip Top Beer Cans you need right now on eBay at low, discount bargain prices!"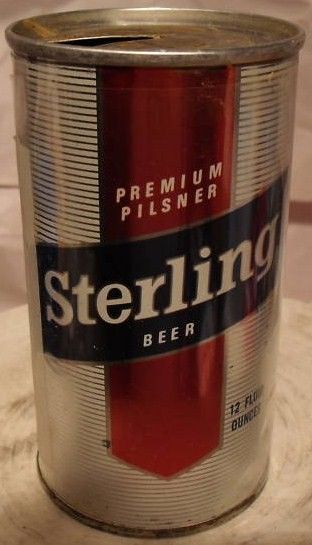 Some nice zip tops from the 1960's. Old Milwaukee, Rupperts, Sterling, Van Dyke and Iroquois
The manufacturing days of these desirable zip top cans were short lived, another reason for their new found popularity among collectors. The first zip pull tab came out in 1962 and Iron City was the first can to give the new device a try. It paid off big, and by 1965 75% of all breweries in the USA were using them. The day of the can opener/church key and old flat top cans was coming to a fast end.
Carling Malt Liquor Zip Top Pull Tab from 1962
There were different styles of openings and tabs along the way of this new innovation. The popular pull ring many of us remember didn't become widespread until about the late 1960's. The "dogbone" style opening is a great zip top/pull tab can to grab if you can find one! Some of the brands using this style were American, Arrow 77, Banner Beer and Kappy's. There weren't more than a few dozen brands/labels using that style.
Tiger Beer with pull ring tab. Wiedemann with pull type zip top.
The sta-tab came out in 1975 and by that time there were few steel cans left. Recycling of aluminum was becoming popular and many cans were being recycled. Beer can collecting had hit fad status and many companies were cranking out cans just for that purpose, rendering many zip tops and pull tabs almost worthless from a collectible stand point.
Schlitz 16 oz zip top with "Pop Top" advertisement.
That's what I mean by the zip top cans days being short lived. For the most part, there is a window of about 1962-1969 where you will find good zip top cans for a collection. Many after that were easily crushed because of the easy to squeeze aluminum, or recycled. By the mid 1980's, practically all cans were made of aluminum and now had the sta-tab opening.
"Find the best deals and biggest selection of Pull Tab Beer Cans hiding out on eBay!"
This leaves a nice window of about 7 years worth of zip top beer can production worth collecting. Today, zip tops, snap tops and pull tabs are nice cans to obtain. They are often in fantastic condition and are sure to become harder to find with each passing year.