Vintage Wooden Beer Crates
Displaying the old vintage wooden beer crates from days gone by looks great amongst a can collection! Many folks have a lot of impressive beer cans on display but unfortunately haven't given much thought to other vintage beer memorabilia. A few well placed wooden beer crates can really put some zing into a can display and garner more attention!
Old wooden beer crates from National, Old Redding and Haffenreffer. Crate cases like these were everywhere before the conetop cans came out in 1935.
Finding a specific brand or label of crate can be difficult as these collectibles are already somewhat tough to come by. However, with a little patience and thoughtful search, finding the crate you need on eBay and other online sites is a real possibility worth pursuing.
---
"Find the best selection of Vintage Wooden Beer Cases on eBay at discount bargain prices!"
---
Excellent old wooden Mooshead beer crate.
If a you do not need a specific brand or label, some nice crates can be found with working lids, hinges and decent looking painted writing still intact and legible on the outside.
Many of these crates are very old and were manufactured by unheard of companies that were local and went out of business because of prohibition or just competition from large breweries like Anheuser-Busch. They can be quite attractive and nostalgic looking even though you've never heard of the brand.
Anheuser Busch Budweiser wooden beer crate with checker board game and supplied red and blue bottle cap game pieces. What a nice collectible!
Finding these wooden beer cases or crates on eBay with names like Budweiser, Schlitz, Rheingold, Blatz or other familiar names is not a difficult task and the prices are usually fairly low for such old items. Of course, it depends on the condition and scarcity of the crate, but in general names like these very affordable if you are seeking a wooden beer crate.
Vintage Grand Rapids wooden beer case. Pre-Prohibition.
For most hobbyists and collectors needs, as long as the name is easily read the crates will look great amongst all the other beer or brew-mania memorabilia on display and serve the purpose!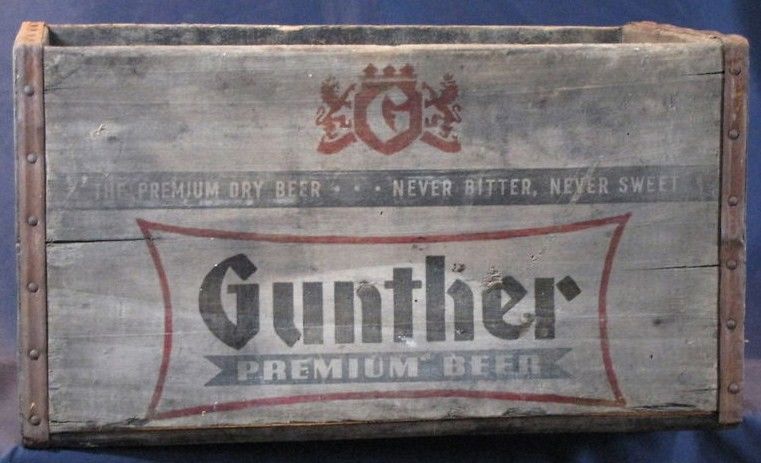 Old wooden beer carriers Guntlier, Rochester and The Hudepohl Brewing Company. Crates like these can still be found at reasonable prices.
Personally, I think a vintage or antique wooden beer crate needs to have some amount of wear to it in order to enhance the average display. There are, however, crates available in excellent, museum quality condition for those with the need for that grade of beer crate.
"Visit eBay right now for Old Wooden Beer Cases at bargain prices!"