Vintage Bud Man Collectibles/Memorabilia
The Anheuser-Busch company developed the Bud Man mascot in 1969. He is a beer bellied superhero wearing a red costume with a blue cape waving out behind him. The chubby guy quickly grew into one of the most popular characters created by the Budweiser Company. Additionally, he is known as the "Dauntless Defender of Quality" and was marketed on a wide variety of products that included key chains, apparel and lighted display signs along with glass wear items such as salt and pepper shakers, beer steins and mugs.
---
---
The Anheuser-Busch Company began selling steins and mugs in 1894. However, the company did not create catalogs of their steins until 1975. At that time, Anheuser-Busch created a listing system for all forthcoming steins. They used a letter-number sequence to determine each stein or mug issued along with the time frame that it was sold.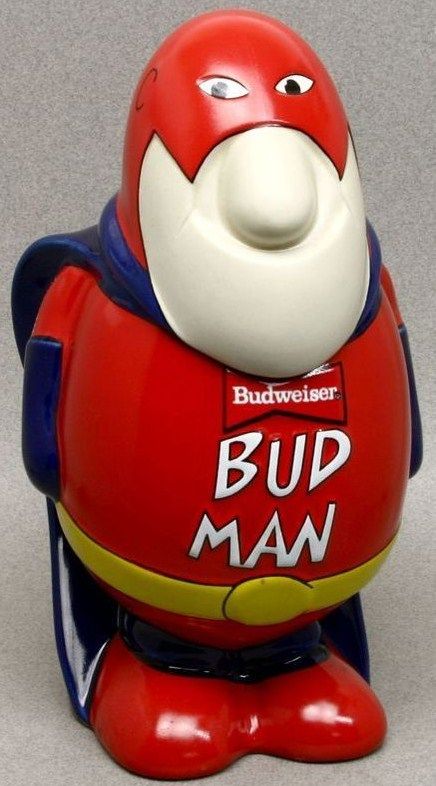 The vintage steins are by far the most sought after Bud man collectibles.
The first stein that was manufactured using the new catalog system was the Bud Man stein. This was also the first time that the company created a character beer mug. The new collectible was given the serial number CS-1, which was an abbreviation for Collectibles Series Number One. The company cleverly used other simple abbreviations for their keepsake steins. For example, SO refers to Special Order while N stands for Novelty item.
The first collectible Bud Man beer stein was sold for $5.95 and was manufactured in Brazil by the Ceramarte Company. Currently, an estimated 1500 employees now work at the stein production plant. Collectors will appreciate the seven and a half inch height of the first mug in addition to the 13 separate variations that were generated. Specifications that were added to the different Bud Man steins include a solid head or hollow version along with two unique body types and changes in the color produced. For instance, the red of Bud Man's suit and superhero mask shifted from a bright to a light shade and some stein's colors were more orange. Also, the blue of Bud Man's cape varied from a deep dark shade to a denim hue.
---
---
Other distinctions for collectors to look for in this initial Bud Man stein series include different skin tones and three separate styles of thumb-rests. Collectors of this classic stein will discover that the Bud Man is easy to spot. He sports a tan bow tie, no belt and his mouth is the location of the flip top lid.
True vintage Budman shirts in good condition can be tricky to find.
The Bud Man Stein underwent slight renovations and a second model was manufactured in 1989. The chubby stein grew to seven inches and gained a yellow belt. His bow tie changed to red with Budweiser printed on it. Furthermore, his super hero outfit included the word "genuine" on the sleeve. Collectors can also recognize this edition from his shoes, which switched from blue to red, but the biggest change was the lid, which became his whole head instead of just his mouth.
The Bud Man beer stein saw a big change in 1993. The production number increased from 100 to 213, which represented how popular the Bud Man had become in just four years. The company slimed the super hero down and added cool guy sunglasses. In 1999, Anheuser-Busch switched him back to the rotund beer-bellied Bud Man from their initial line. The stein's lid once again opened at his mouth, he lost his belt and grew to 10 inches tall. This version was limited to 25,000 manufactured and the initial cost was $100.00.
Anheuser-Busch expanded their Bud Man product line, and now collectors can locate a vast amount of memorabilia featuring the super hero. For instance, the Budweiser Bud Man neon sign will enhance a collector's game room and the vintage Bud Man belt buckle is still up to the task of keeping pants in place.
---
"Shop for classic Budman Memorabilia on eBay and save!"
---
Some more classic Bud man merchandise including a "watch wall clock", salt & pepper shakers, coffee mug.
A Bud Man collector's refrigerator can be a display area for the many magnets that the company manufactured. Furthermore, fans of the mascot will be thrilled to add a vintage set of cups to their kitchen cabinets and Bud Man shaped salt and pepper shakers to their dining room table. Fans of Bud Man can locate thermal mugs to keep their coffee warm along with coasters depicting the famous super hero to protect coffee and side tables from condensation. Moreover, the Bud Man marble is an unusual find, but stickers featuring the portly superhero are plentiful.
The beer company produced numerous T-shirts that will keep collectors of Bud Man dressed in comfortable apparel with pictures showing the mascot surfing, advertising Budweiser and flying in to save the day. Furthermore, there are vintage Bud Man shirt patches giving collectors the means to make any T-shirt into a Bud Man shirt.
Tap handles & bar clocks adorn many a collector's display room.
A few rare red hoodies are on the market and Bud Man fans will enjoy exhibiting their unique clothing discovery. Additionally, tenacious collectors may be lucky enough to find the enamel pin featuring their beloved Bud Man holding a beer, which would make a great addition to the Budweiser hoodie.
The 1973 Bud Man poster is a fun item to find and features our favorite superhero with the catchphrase "Dauntless Defender of Quality." This colorful poster would fit in perfectly on the office wall of resolute Bud Man collectors.
Bud man stickers were wildly popular in the 70's & 80's!
Collectors of the chubby mascot who enjoy playing golf can purchase golf balls with the famous fellow. Also, the Anheuser-Busch marketing team issued a Bud Man brass metal adjustable ring.
---
---
Collectors who bring the unique retro beer cooler with Bud Man depicted on the side to their next tailgating party will surely be a hit. Moreover, a red beer can holder featuring the mascot will keep drinks comfortably cold.
You may still see some of these vintage tin wall signs hanging in your local tavern.
The rare Budweiser Bud Man Swiss constructed wind-up watch will be a welcome discovery for diehard Bud Man collectors while the lighted tap handle display is perfect for the bar area in man caves. Additionally, the wall clock featuring the round fellow will complete the man cave décor.
Bud Man is a memorable mascot for collectors to invest in, and this rotund superhero will add a light-hearted style to the decorating design in any game room, man cave or home office.