Vintage Beer Brand Bar Clocks
The Unique Attraction of Vintage Beer Clocks
If it is time for a beer it's surely time to search for some vintage beer clocks too. There are all kinds of breweriana and memorabilia out there, but if you are looking for something to hang on the wall at home you should think about a vintage clock with a touch of history about it.
A few examples of the very popular square style vintage bar clocks with beer logos.
>The good news is that if you are looking for some beer clocks to collect – whether they're in working order or not – you will find plenty of leads to them online. It's essential to know that many of these clocks are not vintage at all. They could be brand new but created with a vintage sign or brand name on them to make them look aged. There is nothing wrong with this but if you are looking for a genuine vintage item online you should make sure you find this and nothing else. Always check the details so you know what you are buying.
---
"Discover the biggest selection of Vintage Beer Clocks at bargain prices on eBay!"
---
How old are vintage clocks?
Proper vintage clocks will generally date from the Seventies or earlier. Some are sold as signs that also have a clock built in, so it might be prudent to look for signs as well. A lovely vintage Miller beer clock from 1957 appeared on eBay recently, featuring the classic Miller high life logo on the left hand side and a clock on the right. The sign was also lit and according to the seller the clock was also in perfect working order.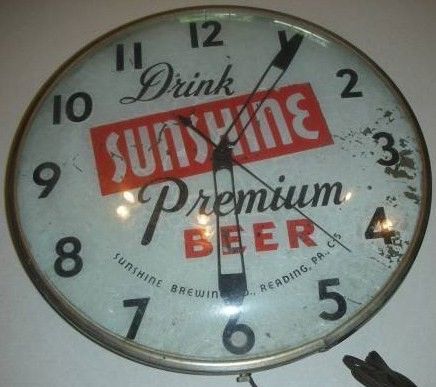 Some classic round vintage beer wall clocks. Love the Hull's and Sunshine Pieces!
You'll find some other more unusual vintage beer clocks around as well, such as the Anhauser Busch barrel clock which actually comes in the form of a barrel. The seller wanted $600 for this on eBay and since it is a very unusual and rare specimen it is easy to see why.
A few rectangular-vertical display beer clocks.
/
Another unusual specimen may be included if we push slightly into the Seventies, where we will find the Schlitz globe clock sign, which is really something else entirely. The clock didn't work but this does not necessarily reduce the price of such a clock by a huge amount. It all depends on how old it is, how rare and most important, how much the buyer is willing to pay for it!
---
"Find the Beer Clocks you need for your collection on eBay and save a bundle!"
---
Could they be brought back into working order again?
It all depends on how old they are and how badly they are damaged. You would probably need to consult a specialist to see whether such a clock could be mended. However some collectors are not so concerned about whether a clock is in working order or not. Sometimes an item may be rare enough to want it in your collection regardless of the condition or working order it may or may not be in.
Antique & vintage beer clocks like these will enhance any collectible beer can display!
Obviously you'll find the best selection of these clocks online, but it pays to look elsewhere as well. When one comes up for auction online there is likely to be a lot of interest and this will push up the price. All you have to do is to ask yourself how much you would be willing to pay for these vintage beer clocks!