Vintage Beer Can Openers/Collectible Churchkeys

From the early days of packaging beer in cans, the United States breweries started utilizing their free supplied can openers for advertising. Not only were these church key openers free, they served as a constant reminder to the consumer as to what brand of brew they were drinking. Very clever!



Schlitz and
Ruppert Knickerbocker
vintage
micro mini can openers.
Some of the vintage openers are quite rare today and will really enhance a display of old collectible beer cans. Yet, many more can still be purchased very inexpensively, and that's great news for us hobbyists!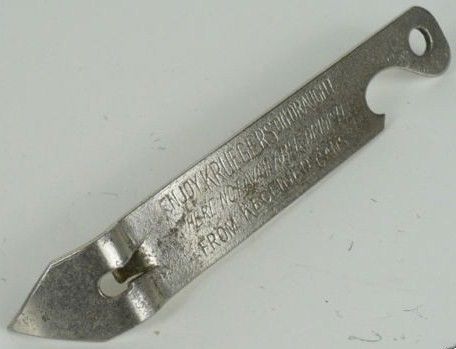 Krueger's, Tennent's and Blatz Private Stock Beer Openers
Whether you are seeking a rare antique beer opener to match a specific can, or just want a few of the more common ones, a couple of well placed vintage openers will surely enhance any beer can display!


Blumer Brewery Monroe, Wisconson/ Gunther's Beer Opener
Even the early cone top openers, which were really bottle openers, had stamped advertising on their thin handles. Brands such as Peter Bub Beer, Kamm's, Fauerbach, Oldbru beer and countless others used advertising on their openers and today make a great piece of beer memorabilia.