Flat Top Beer Cans
Finding the flat top beer cans you need for your collection is easier than ever in today's high tech internet world. With auction sites like eBay available to us, beer can collectors from all levels and locations are adding some once elusive cans to their displays with relative ease, and at bargain prices too!
Whether you are a hard core collector or brand new to this hobby, internet auction sites are worth looking into. While we all want a few nice cone tops in our collection, it's the flat tops that offer more variety and better condition at very reasonable prices.
Flat tops like these typically sell for $5-10 on eBay, often even less than that if you don't mind a few slight marks or flaws!
Imagine finding an old Lone Star, Valley Forge or Pfeiffer's flat top beer can in good condition at a super low price. It happens all the time! People find vintage beer cans in mint condition everyday across the USA while cleaning out relatives houses, barns, garages or attics. They take a quick look on eBay, see they are selling well and list their own finds on eBay to make a few bucks.
---
---
This is great news for beer can collectors! The selection is fantastic and when these people post their old beer can auctions, they often under-price their old steel flat tops. To many of these sellers, they are just "junky old beer cans" that some crazy people buy! Good deals are found everyday and many savvy collectors visit eBay on a regular basis.
Old flat top cans like these typically sell for around $10-15, depending on the condition and scarcity of the brand.
Of course, there's nothing like a good summertime beer can convention, particularly for the seasoned, hard core can collector! Where else can hundreds of like minded people gather together and enthusiastically talk about antique flat top beer cans for days on end?
These flat tops are either rare or in pretty nice shape and typically sell on eBay for $30-40.
These gatherings used to be the only way to swap or buy cans, and while fun, it's not practical or economical for most of us to attend these conventions. The internet and eBay can be used all year round, 24 hours a day and eBay's powerful search tool is a life saver for locating rare, hard to find flat top beer cans.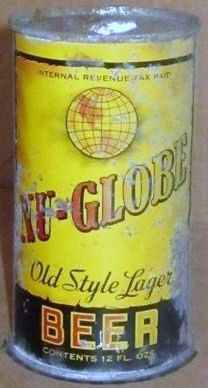 These beautiful flat tops typically sell for $50-75 on eBay. Cans like these would be very difficult to find if not for the internet!
People will often sell cans in lots. Flattops are relatively light and very easy to ship with little concern of damage. Buying multiple cans in one auction can sometimes yield one nice can that's worth more to your collection than all the rest combined.
Samples of some much sought after vintage flat tops. Collectibles of this excellent condition/rarity, will typically sell on eBay for $100-200. Serious collectors are happy to pay this price if they need it for their collection. Without the internet, hard to find cans like these would never make it to the display shelf!
Buying flat top beer can lots is also a great way to get started if you are new to collecting. Some of the more common flat top beer brands are very affordable and often these lots will have many nice starter cans within the batch.
Find fantastic deals on hundreds of collectible Flat Top Beer Cans on eBay!
Be sure to check out the Flat Top Lots for even more savings!"