Vintage Cone Top Beer Cans
Every beer can collection needs at least a few vintage cone top cans displayed prominently for all to see! Most breweries, large and small across the USA and the world for that matter, used the cone top can at some point. There are thousands of different brands, designs and logos out there adding to the excitement of this popular hobby of beer can collecting.
Samples of some very nice cone tops. Cans of this scarcity and excellent condition will typically sell from $150-$200 on eBay. Notice the upside down Clyde can. A fantastic "one of a kind" collectible!
Because there were so many different labels from a variety of smaller breweries, these are now what hobbyists and collectors are after. Obscure cone topsand crowntainers (a cousin of the cone top) from the past offer some brilliant can labeling and logo design. Many of these old cans are highly sought after and valuable if they are in good condition.
Thesevintage cone tops are in very good condition and will typically sell from $100-$150 on eBay.
---
"Find the best selection of collectible Cone Top Beer Cans on eBay at bargain prices!"
---
Today there are many gatherings and conventions going on across the country for collectors to trade and sell their cans. Collectors from all over the world bring their extra cans in order to trade for much needed cans they haven't yet acquired. Much knowledge and bartering goes on and a great time is had by all at these friendly meetings. It's where a lot of cone tops are purchased and traded and still remains a great way to swap cans.
More classic vintage cone top beer cans in good condition. Cans like these can typically be bought on eBay for $50-$100.
However, it is the internet that brings in the majority of these treasures for collectors these days. People (non collectors) find old cans everyday in their parents and grandparents old houses. Often when cleaning out a place that is up for sale, the attic and garages yield a few nice cans. Since most of these finds are not found by collectors, there's no interest in keeping them and they put them up for sale on eBay. This is great news for us beer can collectors!
Never before in history has it been so easy to search and find the vintage cone top beer can brands you need! A simple 1 minute search on eBay can make available a can you've been searching for years to add to your collection! Quite often these cans are sold at bargain prices by sellers who are not "in the know", just trying to make a quick buck! Imagine finding an old Blatz English type ale, a Muehlebach, a Black Horse Extra Fine Ale or any hard to find cone top in mint condition! It happens everyday and it could happen to you!
These cone tops are decent enough for display but show a little wear. Cans like these are commonly purchased on eBay from $25-$40
Whether you are a hard core collector seeking a hard to find cone top in showroom condition or an avid hobbyist, you'll likely find the cans you need for your collection and save a bundle too! Ebay is a great place for new collectors too! There are hundreds of very affordable cone tops listed that will get you fired up about adding to your collection!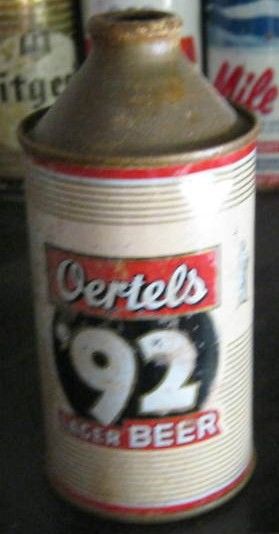 These vintage cone top beer cans are most likely cleaned up dump cans. There are many collectible cans like this being sold on eBay from $8-$15. An affordable fast way to start your collection!
Many people are into beer can dumping for the sole purpose of selling on eBay and trading for other cans they need. They take the time to dig up and clean these old collectibles, just to list them on eBay. Many of the old cone tops listed for under $20 are this type of can. A very affordable and quick way to obtain a few cone tops when you are just starting out!
"The biggest selection of Cone Top Beer Cans are hiding out on eBay at low discount prices!"